René J. Leclair had long dreamed of being at the helm of his own company. When a small manufacturing business in Quebec went up for sale, the long-time banker seized the opportunity.
With that purchase in 1954, Leclair started St. Johns Packaging, based in St-Jean-sur-Richelieu, from what was then fewer than 10 employees in a 5,000-square-foot plant. In 1962, he sought a loan to grow the business further –– and was denied by their traditional lender multiple times. His fortune changed when he connected with Roynat Capital, a lender and investor focused on Canadian mid-sized companies.   
"In his moment of need, Roynat helped my grandfather. And it obviously worked out well since then," said Marc Leclair, President and CEO of St. Johns Packaging, and the third generation to lead the packaging company.  
Six-decades later, St. Johns supplies flexible packaging products globally to leading food and consumer product companies, with wholly-owned subsidiaries in the U.S., Mexico, United Kingdom, China and Vietnam.
Photo: 1954, Original Plant
That first deal with St. Johns was just the third transaction for Roynat, which was formed in 1962 as a vehicle to finance commercial real estate and equipment before expanding into a broader offering of innovative non-traditional financing solutions.
The two companies have worked closely together ever since.
It's the kind of successful relationship that the innovative, flexible lender and investor has aimed to foster over the past 60 years by partnering with companies like St. Johns, said Roynat Associate Director Oliver Proudlock.
"At the core of what we really hope to achieve is to drive shareholder value," said Proudlock, who works closely with St. Johns. "We want them to maximize their ability and their knowledge and their expertise by giving them the capital they need to fulfill their strategies and seize the opportunities they have in the marketplace."
Roynat has flourished alongside its clients as well. After opening its first office in Montreal in 1962, its success drove its expansion across Canada and by 1970, the innovative lender launched regional offices in Vancouver, Toronto, and Halifax. By 1981, Roynat had a presence coast-to-coast and became a wholly-owned part of Scotiabank in 1994.
Now, as Roynat marks its 60th anniversary, the lender works with more than 1,300 clients across Canada with more than $6 billion in loans and other financial products under management, as well as its private equity division, Roynat Equity Partners. It now has 25 offices and 200-plus employees today.
"The success of Canada's small and medium-sized businesses is critical for the country's economy to thrive," said Matt Tedford, Senior Vice President and Head, Roynat Capital at Scotiabank. "Roynat is proud to support and partner with businesses like St. Johns for the past six decades, with advice and financing options that go beyond traditional lending,"
We trust the company and they trust us. We've been partners for 60 years and that's how it's always been.
The utility of Roynat's flexible, patient capital model is evident in St. Johns' journey, throughout which, Leclair said, the lender is often the first call before any strategic move.
And there have been many. Since that first deal to acquire a new building in 1962, under the guidance of René Leclair, and later his sons Jacques and Paul, St. Johns acquired Packaging Industries Ltd. In Montreal. By 1987, it acquired Montreal competitor JT Packaging Ltd., which marked St. Johns' entry into the personal care market.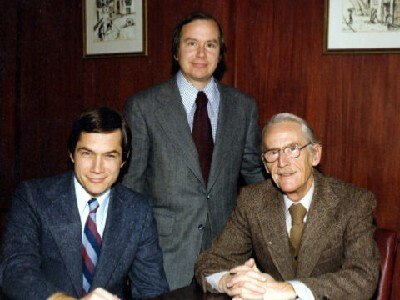 Photo: In the early 1960's, René Leclair's sons – Jacques, an accountant and MBA, and Paul, an industrial engineer – joined the company.
By 1990, the third generation of Leclairs joined the ranks, including Marc Leclair, Jacques' son. The change of generation also ushered in a change in perspective.
By the early 2000s, St. Johns moved to focus its product mix. Instead of producing more than 40 different product lines, the company examined what products had industry-leading potential, said Leclair. The company's extensive research showed that wicket bags – stacked plastic bags held together with a thin wire, or wicket, for items such as bread and baked goods — had that potential. They stopped making the other products and refocused their strategy
 "It was very brave, especially of my father and my uncle to do that, because they had obviously spent decades working on those other products," said Leclair.
The gamble paid off, and timing was on their side as well. In 2002, the Canadian dollar dropped in value to around $0.62 US.
"We were suddenly competitive. We got a few big customers in the US pretty fast," Leclair said. 
In his moment of need, Roynat helped my grandfather. And it obviously worked out well since then.
A series of acquisitions followed – in China, Vietnam, North Carolina, Mexico and the UK.
From the early 2000s to 2020, St. Johns grew at a compounded annual rate of around 11%, compared to the average rate of around 3% for the flexible packaging industry, said Leclair.
Their trajectory changed, as it did for most companies, when COVID-19 hit. The food industry to which St Johns supplies packaging saw an uptick in demand, but supply chain issues and global shipping challenges arose.
In turn, St. Johns has again proactively taken a step to position itself for future growth. In May, the company completed the acquisition of Plásticos Uribe, a vertically integrated manufacturer of flexible packaging products in Jalisco, Mexico, with Roynat's support.
Establishing a significant manufacturing presence in Mexico allows St. Johns to be a more robust and reliable supplier for its North American customers, Leclair said.
"With the better availability and the proximity to the US market, we think that'll help quite a bit, but these are still very challenging times," he said.
Roynat has been a trusted partner for as long as he can remember, including joining his father, Jacques, in various meetings with the lender as well.
 "I've witnessed it during the past few months, when we are going through a very difficult time. Everyone we talk to is really, genuinely trying to come up with solutions with us."
It's been a challenging period for many businesses, but St. Johns is extremely well positioned to come out of it stronger than their competitors, particularly with this Mexico acquisition, said Proudlock.
"We trust the company and they trust us. We've been partners for 60 years and that's how it's always been," he said.